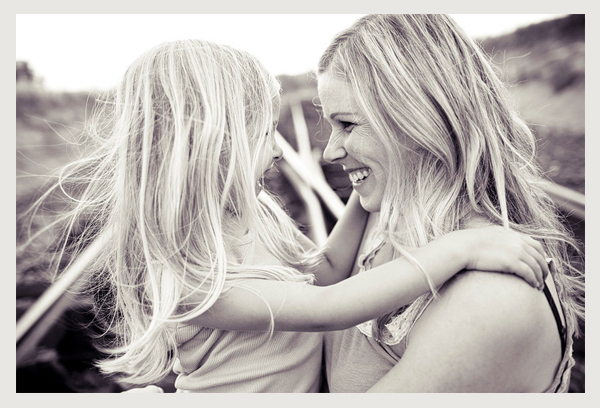 What inspires you?
This is one of my favorite photos. I took this two years ago when one of my best friends was pregnant with twins, she would probably kill me if she ever knew this was one my website, so don't tell her. I love everything about this photo, sweet little Macy lost in her mom's smile and a mess of blonde hair blowing in the wind – their hair is EXACTLY this same, right?! I love this photo because one day I hope someone will take one of me looking at my child like that. I want to take photos that bring tears, laughter and joy to the heart when you look back on the memories through the years. I want to take photos that make us appreciate the things we have now. I am inspired by the small moments, tightly held hands, little smiles and eyes full of character. I am inspired by the people and places I photograph. I am inspired by the chance, the opportunity, to capture that beautiful moment that you can't help but pull out year after year and be glad to return to.
How did you get into photography?
I graduated Biola University in 2004 with a degree in Studio Arts and thought I was destined to be a painter. I had always loved taking photos on the side to give me inspiration in my artistic endeavors , but I never thought I'd end up taking photos for a living… August 2007 was my first wedding, I shot it with the very first digital Canon Rebel ever made and I was hooked! I've come a long way since then, but I will always have fond memories of that first time! I'm so glad I found photography, and who knows, one of these days I may just end up teaching studio arts at a university. But for now, I am ever so privileged to find art in photographing memories to last a lifetime!
What equipment do you shoot with?
I have a Canon 5D Mark II and a Canon 5D, a wide range of canon lenses, two 580ex speedlights and two 430ex speedlights. I keep things simple and shoot using natural surroundings and natural light whenever I can.
How does a typical session work?
I consider myself a natural light photographer, I looove the outdoors – and creative indoor spaces! A typical session with me will be an on location shoot, either a place that means something to you, a place you think is just awesome, or somewhere I'll suggest based on what you like. I've always got my eyes peeled for new photo locations whenever I'm on a drive! You can expect to spend around an hour and a half with me walking around talking photos. I'm up for anything and everything, as long as you can have fun, relax and enjoy yourself! I also get the question, 'what should I wear?' a LOT. While I may not have a huge list of "don'ts", I do suggest you wear something that represents you and makes you feel comfortable. I always like to suggest something colorful and fun and I absolutely love accessories – belts, scarves, hats, big necklaces – these always add interest and texture to photos! Change of clothes or no change of clothes, that's totally up to you and how much you'd like to mix it up – but do wear something easy to change into as the locations I typically find myself in do not seem to come standard with a pop up changing room : )
What is your favorite color?
I'm so glad you asked! Yellow!!